Sport Fishing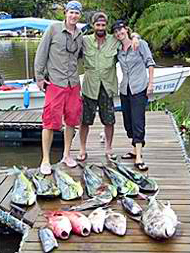 Launch your Costa Rica sport fishing adventure right from the private boat slips at Sierpe del Pacifico. This Pacific Ocean fishing paradise is just a twenty minute boat ride from the Sierpe del Pacifico dock.
Keep a boat of your own, docked right at this riverfront Eco-Community, or hire a Costa Rica fishing guide from the town of Sierpe.
However you plan your Costa Rica sport-fishing adventure, it will begin and end at your Costa Rica vacation home at Sierpe del Pacifico.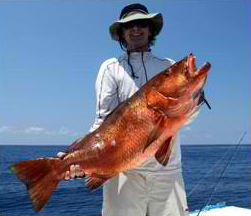 Costa Rica Sport Fishing
The Costa Rica Osa Peninsula and Sierpe, Costa Rica areas are destinations for residents and visitors seeking the adventure and thrill of unmatched Costa Rica sport fishing.
Warm water temperatures, prolific fish holding structures, and the numerous rivers that dump rich nutrients into the ocean create three distinct aquatic environments for sport fishing that are largely untapped.
Relatively unknown on the Costa Rican sport fishing circuit, the port of Sierpe provides access to the very best river, coastal and off-shore sport fishing in Costa Rica. The port also serves as a full service marina for all supplies and amenities necessary to maximize your Costa Rica sport fishing success.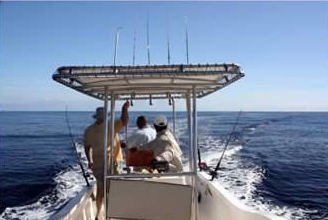 Costa Rica Pacific Ocean Fishing
By far the biggest sport fishing draw to Costa Rica is the millions of square miles of deep blue water providing worldrenowned angling for marlin, sailfish, dorado (mahi mahi), yellowfin tuna and wahoo.
These migratory fish are available year round throughout the coastal reaches of the Costa Rica Pacific; however, each individual species has its own peak period in which success is more likely.
Billfishing in Costa Rica
Billfishing is the most popular variety of Costa Rican off-shore fishing for recreational and professional anglers. The world's biggest Sailfish as well as blue, black and striped marlin are prolific in the Costa Rican Pacific and are considered the most desirable target for the majority of sport-fishermen traveling to Costa Rica.
Sailfish
Sailfish can be caught year-round in the waters off of Sierpe del Pacifico, but numbers and catchability peak between December and April.
Most anglers can expect to raise between 10 – 15 fish a day during this period, however it is not uncommon to raise 40 or more when the bite is hot. Sailfish average around 110 lbs., but specimens in upwards of 200 lbs. are caught each year.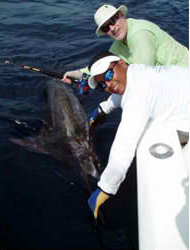 Marlin
Marlin can also be caught year round, but like sailfish there are certain peak times when concentrations and catchability are maximized. Blue Marlin are Costa Rica's most common marlin species and peak in the months of August – December.
Chances at black marlin are most likely in October and November. Blues average about 200 – 250 lbs. in size but are known to push the scales at over 500 lbs. Blacks average about 300 lbs. and will occasionally max out at 800 lbs. Striped marlin occasionally mix in with sailfish during their respective season and average 100 – 125 lbs.
Certain tactics will increase success in billfishing the Pacific Ocean off Costa Rica

The most common tactic for catching marlin and sailfish is to troll two large hooked lures from the flat lines, two naked ballyhoo rigged on circle hooks from the outriggers, and a smaller hooked lure from the shotgun line. The two large lures serve to help bring sails into the spread while at the same time provide a large, aggressive moving target for any marlin that shows up.
The ballyhoo on circle hooks will receive the majority of strikes and hook-ups from sailfish, however larger sails will readily take the lures as well. The smaller lure in the shot-gun position is there to entice any fish that is finicky or trailing behind the main spread. For an experienced crew, bait and switch tactics with large and small pitch baits for both sailfish and marlin can be very productive as well. Finally, slow trolling bridle-rigged live tunas near bait schools is another effective tactic. It is customary to release all billfish.
Fish for fun or for your dinner in the Pacific Ocean waters of Costa Rica

Dorado
Dorado (mahi-mahi) can be encountered year round, but are most common from late May through December.
Dorado of all sizes are usually found schooling together near floating debris or water color changes. Trolling skirted lures and ballyhoo is the best method for locating fish, but once surrounded by a school a wide variety of presentations including lures, jigs, flies, and bait will work quite well. Dorado typically range in size from 5 – 50lbs. with 10-25 pounders being most common. The world record dorado of 88 lbs. was caught in Costa Rican waters.
Yellowfin Tuna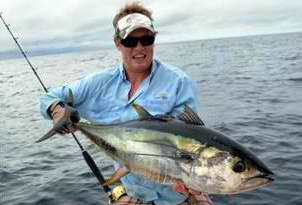 Yellowfin tuna are great sport and provide the ultimate in table fare.
Football size tuna are commonly found around floating debris and off-shore reefs year round, however much larger tuna ranging from 30-300 lbs. are most likely encountered with schools of spinner dolphins during marlin and sailfish seasons. The large tuna swim with the porpoises and feed on the same baitfish. Most tuna are caught trolling, however vertical jigging and popping, in addition to being very effective, provide the ultimate in thrills and challenge. In addition to yellowfin tuna, bonito and false albacore tuna can be caught up to 10 lbs. These smaller tuna are a blast on a fly-rod.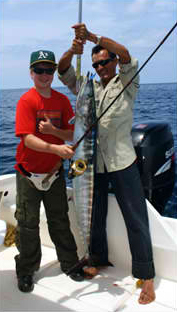 Wahoo
These speedsters are absent most of the year, but can show up in scattered but thick concentrations around Cano Island, deeper inshore reefs, and any sort of floating debris between the months of May and October.
Most fish are caught trolling rapalas, cedar plugs or jet-heads at higher speeds, however jigs and topwater plugs will boat the occasional fish as well.
Wahoo typically range between 15 – 50 lbs. while specimens in upwards of 90 lbs have been caught in the area.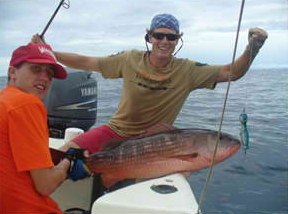 Costa Rica In-Shore Sport Fishing
While it is true that most fishermen visit Costa Rica for the esteemed off-shore fishing, often times it is the in-shore fishing that keeps them coming back year after year.
It is arguable that nowhere else in the world can match Costa Rica in sheer numbers, variety and size of coastal game fish. Easily accessible and excellent throughout the year, in-shore fishing will become an everlasting favorite for any enthusiastic angler.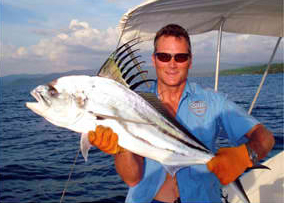 Roosterfish
With its unique combination of size, exotic looks, strange antics and aggressive behavior, it is no wonder that the roosterfish is the favored target of in-shore anglers. Often called "ghosts of the coasts" due to their propensity to seemingly appear and disappear at will, roosterfish are actually very common in Costa Rica and will be located very near to any steeply sloped beach or rocky outcropping. The most effective tactic for catching roosterfish is to slow-troll a variety of live baits including sardines, blue runners, mullet, small jacks and small snappers.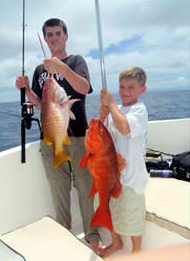 When roosters are in a particularly aggressive mood, casting large, noisy top-water plugs will bring the most heartpumping and exciting action possible….there really is nothing more spectacular than watching that combed dorsal fin slice through the surface of the water and explode on your lure or fly!
Roosterfish typically run between 15 and 50 lbs. however specimens up to 80 lbs. are caught here every year.
Bottom-fish (Snapper, Grouper and Amberjack)
While it is the roosterfish that is considered the "flash and dash" of the in-shore species, the groupers, snappers and amberjack are the true kings of the reefs. These are the apex predators – the fish that eat all other fish.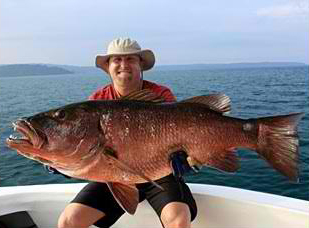 Snapper
Of all the snapper species, the Cubrera gets top billing. Often called a "dog-tooth"given its canine like incisors, the cubrera favors rocky structure in a wide variety of depths.
Free-lining baits, both live and dead, vertical jigging, as well as casting noisy top-water plugs are the favored methods for catching cubrera – the largest of all Pacific snapper species (15 – 20 lb. average, 70 lb. max).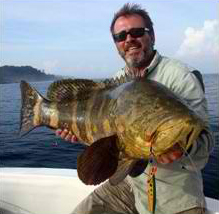 Grouper
Broomtail and Goliath grouper are by far the largest and most sought after grouper species in Costa Rica. Unlikely to travel very far from the bottom, these grouper spend most of their time in or near rocky crags and caves near deeper structure. Once hooked, these powerful fish will dart directly back to their favorite hiding spot, thus putting the angler's skills to the test. Grouper are very susceptible to free-lined dead and live baits as well as vertical jigging. Broomtail grouper average around 30 lbs. but can reach 100, while Goliaths – though rarely caught – are known to max out in upwards of 500 lbs.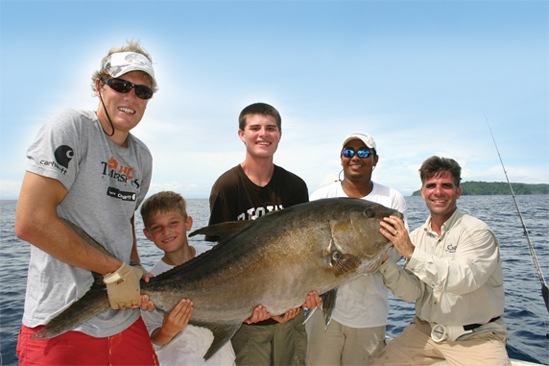 Amberjack
Amberjack, the largest and most voracious of Costa Rica's Jack species, favor many of the same haunts as grouper and snapper but tend to prefer water that is bit deeper and clearer.
Reefs or rocks further off-shore in 100 or more feet of water are just about guaranteed to hold good numbers of large amberjack. Free-lining both live and dead baits is a good option for AJ's, however large, erratically worked butterfly jigs will put amberjack into a frenzy and allow you to most effectively target the biggest fish in deeper water. AJs average between 15-50 lbs. but will go well over 100 lbs. in this part of Costa Rica.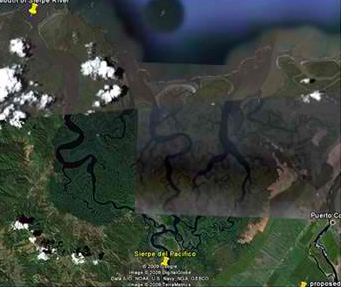 Costa Rica Sierpe River/Terraba Sport Fishing
With a total area well over 60,000 acres, the Sierpe/Terraba river system provides unlimited fishing opportunities throughout its upper and lower reaches. This is a great option for someone who wants a quick snapper fillet for dinner or may not have a vessel capable of fishing in the ocean.
An abundant variety of fish ensures success for the fishing enthusiast on the Sierpe and Terraba rivers
The river is home to a few dozen different species of fish, but snapper, snook, grouper, corvina, and tarpon are the most widely targeted. Snapper are the most frequent river catch, and despite only averaging a few pounds each, fish up to 50 lbs. inhabit the river.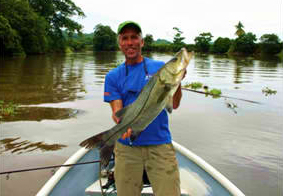 While there always are exceptions, a general rule with fishing the river is that the closer you are to the mouth, the larger the fish will be. This holds true with the elusive black snook. Local fishermen using hand lines routinely catch 30-40 pounders near the mouth. The world record snook of 57 lbs. was caught out of a similar river system just a few miles north.
Another favorite, the orange mouthed seabass, or corvina as they are called here, frequent the deeper holes and undercut banks throughout the year, but are caught more often during the dryseason. In addition to having a striking appearance and nice average size (6 – 10lbs.), corvina fillets have the most delicate and desirable of culinary qualities.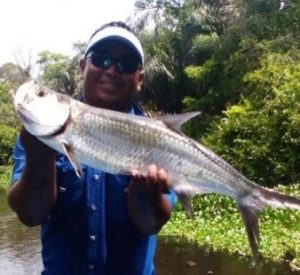 Finally, for a real challenge and chance at a trophy, goliath grouper fishing is available throughout the lower reaches of the river system. These fish can reach epic proportions and are a real treat on the dinner plate. Most fish are between 10 and 20 lbs., however fish 100 – 200 lbs. are caught every year. In addition to the species described above, jacks, machaca, catfish, and roosterfish can all be caught in the river.
Tactics
When fishing the river you'll be faced with the choice of using either artificial lures or natural baits. Artificials are better for locating fish and requires more active involvement on the part of the angler, while natural baits are more effective in getting finicky fish to bite and will generally catch you larger fish. An effective river angler will be knowledgeable in both methods.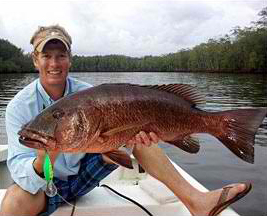 Trolling deep-diving plugs and shad raps through deep holes and along mangrove edges is a great way to catch all species, especially snapper and corvina. Casting bucktail jigs and weighted soft plastics works here as well… free-lining a live or dead sardine is even better. Casting topwaters, crankbaits or swimbaits along mangrove shorelines and tributary mouths is another great tactic, especially for snook. The same can be done with live shrimp, mullet, or sardines. For super-sized snapper and grouper, soaking a large crab, mullet, or piece of tuna in the deepest holes or around rocks and sunken structure will eventually hook you up to a brute, however this is not a time to mess around with light tackle. Heavy line and heavy pressure will be necessary to pull these fish from their lairs.
The river is also a great place to fly-fish, especially in the upper reaches. The water runs clearer up here and the resident snook and snapper require a more delicate presentation. In addition to holding great numbers of fish, the upper reaches are one of river's the most beautiful and tranquil places to cast a line. Over the past couple of years, a seasonal tarpon fishery has developed in the upper reaches of the Sierpe River. It is believed that these fish originally swam through the Panama canal before establishing small breeding populations in mangrove estuaries north and south of the canal. More and more tarpon are caught in the Sierpe each year…especially in the rainy season. The fish average 10-30 lbs. in size, however specimens over 100 lbs. have been caught in the river.

Sierpe del Pacifico Provides Unparalleled Costa Rica Sport Fishing Opportunities
Unspoiled describes the fishing habitat of the Pacific Ocean and the Sierpe/Terraba River that is accessed from the private marina of a vacation home at Sierpe del Pacifico. And unspoiled describes every aspect of life at this unique eco-community on the Osa Peninsula of Costa Rica.