Cassidy Scheer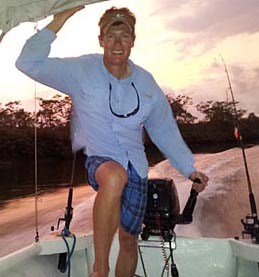 Cassidy Scheer, Development Coordinator/Sales
Cassidy, son of Fred, has been the on-site manager of Sierpe del Pacifico since November of 2007. A 2004 graduate of the University of Wisconsin – Madison, Cassidy has managed various Fred Scheer businesses since 1999. Sharing Fred's vision for the unique potential of Sierpe del Pacifico, Cassidy was excited to be presented with the opportunity to be part of the project from its initial phase. Fluent in the Spanish language, Cassidy is knowledgeable of the business culture of Costa Rica and well practiced in moving projects forward in this environment. In recent years he and Fred have embarked on several other successful real estate projects in Costa Rica and Wisconsin.
Cassidy currently divides his time between Minneapolis, MN and Sierpe del Pacifico.  In his spare time he enjoys traveling, fisherman, and spending time with his wife and daughter. Like his father Fred, Cassidy is also a world champion lumberjack sports athlete. He has numerous speed-climbing titles and is a top ranked logroller and Stihl Timbersports Series athlete.