The Sea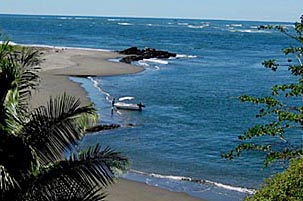 Deepwater access to the ocean by boat has always been a cornerstone of value to the Sierpe del Pacifico community.
Unencumbered boat in, boat out access to the best beaches, fishing, snorkeling, surfing, diving, fishing, and whale watching the Pacific Ocean offers will continually bring SDP residents a tremendous amount of joy and excitement.
Beaches: Several private and pristine beaches are easily accessible from the Sierpe del Pacifico docks. Here is a brief description of the more popular ones.
Boca Sierpe – The quickest and easiest beaches to get to from Sierpe del Pacifico are the those on either side of the mouth of the Sierpe River. Both sides have small inlets where anyone in any size watercraft can safely park their boat and enjoy the beach. Both beaches are extremely private, and having them all to yourself will be the norm. Both of these beaches offer great opportunities for shore fishing and surfing when water clarity and wave conditions are right.
Boca Guaramal – Branching off from the main channel of the Sierpe River about one third of the way to the ocean from Sierpe is the Rio Guaramal. Because of the shape and shallow depth of the rivermouth the beaches here are unusually calm and tranquil. The process of beaching your boat here is extremely easy as well. Given the remote location of this beach, absolute privacy is guaranteed.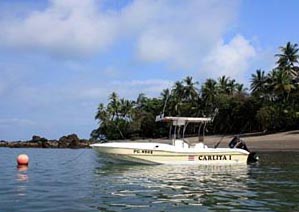 Boca Guaramal San Josecito – Playa San Josecito is arguably the most popular beach in the Sierpe/Drake Bay area and for good reason. Everything that one would desire in a beach setting is here: tranquil waters, great snorkeling, fine sand, and plenty of shaded seating area. San Josecito is located about 5 miles south of the Sierpe River mouth and takes about 45 minutes to get too from Sierpe del Pacifico.
Boca Guaramal Cano Island – The Cano Island beach is definitely the most beautiful beach one can access from Sierpe del Pacifico and is a great place to spend an hour or so eating lunch and relaxing during a fishing or snorkeling trip near the island. The views of the entire Pacific Coast and ocean here are truly breathtaking.
Snorkeling: The clear, warm waters of the Osa Peninsula make for some truly spectacular snorkeling. Depending on the location and time of year, numerous aquatic species – both large and small – can be seen here. The best and most popular snorkeling location is the series of reefs on the leeward side of Cano Island. Numerous fish species aggregate to the rock outcroppings here and can be easily viewed given the extremely clear water. Because these reefs are a considerable distance offshore and are located in deeper water it is possible to see larger species such as turtles, sharks, manta rays, and large pelagic fish. Another popular snorkeling spot is Playa San Josecito.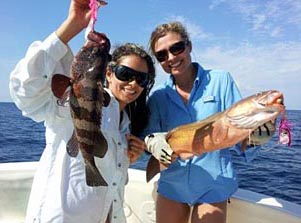 Fishing: The coastal and offshore waters of the Osa Peninsula are a true fisherman's paradise. The sheer size, variety, and number of fish that can be targeted here is truly amazing, and any level of angling enthusiast will be able to find the right niche in which to pursue their passion. For more in depth information on the sport-fishing opportunities available from Sierpe del Pacifico please visit our sportfishing page.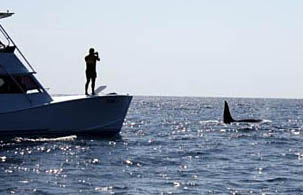 Dolphin and Whale Watching: One of the most popular activities for tourists visiting the Sierpe/Drake Bay area is to go on a dolphin and whale watching tour near Cano Island. Several types of dolphins can be seen year round and are pretty much guaranteed once you venture into deeper water 2 or 3 miles offshore. Bottlenose and spotted dolphins are the most common species, while spinners are the most enthralling to watch given their penchant for acrobatic manuevers. Depending on the time of year, whales can be seen near Cano Island as well. Humpback calving season runs from September through April with October and November providing the best opportunity to have multiple sightings in a day. Several other whale species including fin, killer, pilot, and bryde's migrate through the area and are occasionally spotted.
Diving: The same extensive reefs and clear waters that provide such great snorkeling around Cano Island also provide for Costa Rica's most renowned diving. For novice divers there are several shallower dive sites closer to the island that can put you face to face with all sorts of smaller reef fishes, corals, and crustaceans. For experienced divers there are several deep water reefs that will attract larger pelagic fish species, white-tipped reef sharks, manta rays, and even turtles. Several certified dive masters operate out of Sierpe and can pick SDP residents up at the dock for dive trips.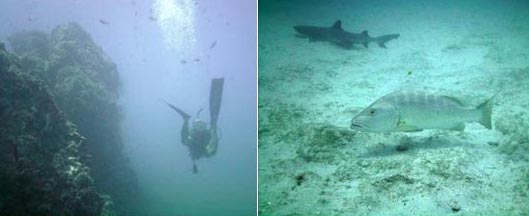 Surfing/Kite-Boarding/Sea Kayaking: The mouth of the Sierpe River on occasion provides the opportunity to surf a variety of waves in a very beautiful setting with no interference from other surfers. Depending on the swell and tide conditions, breaks can occur in a variety of locations both on the beach and offshore of the mouth. In addition to the river mouth break, there is a consistent surf break at the mouth of the Rio Claro near San Josecito beach. While not very mature in its development, a few Sierpe residents have begun kite-boarding at the mouth of the Rio Guaramal. Sea kayaking is another great option for ocean recreation.