The Jungle
Several quality land based adventure activities can enjoyed directly on or from the Sierpe del Pacifico grounds. Choices include but are not limited to hiking, mountain biking, horseback riding, wildlife and bird watching, gardening, sun bathing, and general relaxation.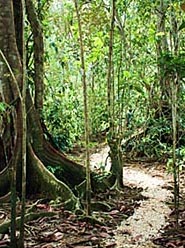 Hiking: On the Sierpe del Pacifico property there are over 5 kilometers of access roads and hiking trails that are ideal for exploring. Whether you take them at a relaxing pace or choose to break a sweat and get some exercise while you explore, you are sure to find the experience both relaxing and invigorating. This network of trails weaves through all major ecosystems within Sierpe del Pacifico and provides great opportunities to view birds and other wildlife species in their natural setting. Five ranchos and viewpoint platforms are strategically located in areas of particular natural beauty and are equipped with chairs and hammocks that one can relax and take a break in.
Mountain Biking: Bordering the western edge of the Sierpe del Pacifico property is a walking, hiking, and biking trail that connects Sierpe del Pacifico to the pueblo of Mirimar and the road from the town of Sierpe to Drake Bay. This road – while challenging – provides great single track mountain biking. Once on the road to Drake the trail widens, is easier to ride, and connects you to an endless network of jungle trails and mountain roads on which to mountain bike. Favorite stops along the route include the Pacific Ocean viewpoint in the town of Mirimar, the Mirimar pulperia, and a jungle stream with multiple waterfalls and swimming holes. In addition to day rides, people can do overnight mountain biking trips to Drake Bay and back.
Horseback Riding: Horseback riding can be arranged directly from Sierpe del Pacifico. Favorites rides include all of the same paths and trails used for mountain biking.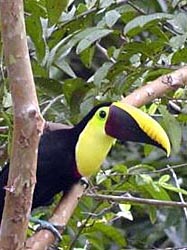 Wildlife and Bird Watching: The Sierpe de Pacifico grounds are a nature lovers paradise. Three distinct tropical lowlands ecosystems: mangrove shoreline, wetlands, and secondary rainforest thrive within Sierpe del Pacifico's nature preserves and harbor a broad population of Costa Rica's diverse wildlife. Exploring the grounds and viewing birds and wildlife in their natural setting is made easy by our network of access roads, walking trails, and viewpoint platforms. This network intersects all major ecosystems, and when stretched out totals 5 kilometers in length. Commonly spotted animal and bird species include howler monkeys, white-faced monkeys, sloths, pizotes, anteaters, agoutis, toucans, scarlet macaws, green parrots, firey-billed aracaris, trogons, herons, and ibis. On occasion SDP residents, guests and staff have spotted peccaries, jaggarundis, ocelots, squirrel monkeys, spider monkeys, and even a jaguar. Several other species of birds and reptiles can routinely be spotted as well.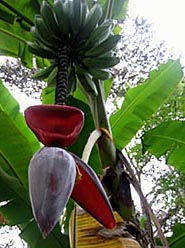 Gardening: The unique combination of prolific sunlight, ample precipitation, and rich volcanic soils makes Sierpe del Pacifico an ideal place to exercise your green thumb. Residents with a large lot and yard area should plan on making their horticultural dreams a reality. For those that don't have a large yard area there are several community gardens at which residents are welcome to grow their own fruits, vegetables, and ornamental plants. Several fruits such as banana, papaya, oranges, lemons, limes, mangos, starfruit, and avocados are very easy to grow and are a wonderful treat when you grow and pick them yourself.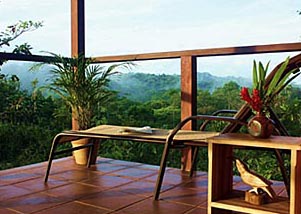 General Relaxation/Sunbathing: Merely hanging out on the deck of your Sierpe del Pacifico home or one of the communal viewpoint platforms is quite possibly one of the most relaxing and enjoyable things to do at Sierpe del Pacifico. Enjoying great views, pristine surroundings, and the sounds of nature along with a good book, tasty cocktail, or treasured company of a loved one is what this place is all about and is the best way to relax after a busy day spent exploring the Osa… Pura Vida!!!