The River
The Sierpe River and its 68,000 acres of waterways, lagoons, and mangrove shorelines provide a recreational paradise that knows no limits. Recreational activities include, but are not limited to kayaking, fishing, wildlife watching, and boating.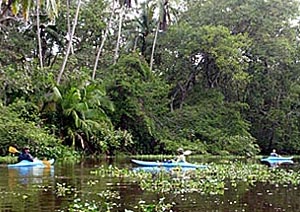 Kayaking/Canoeing: A favorite activity of many SDP guests is kayaking on the Sierpe River and its many tributaries. Kayaking is a tranquil, peaceful way to explore the small intimate waterways in an active and engaging way. Other activities can be enjoyed simultaneously while kayaking like fishing or wildlife watching. A favorite kayaking trip of SDP residents and guests involves departing from the eastern dock and proceeding up the tributary that borders the mangrove and wetland preserves. Several species of birds and mammals are routinely seen on this excursion. For a truly exhilarating kayaking experience, try going at night. The water in the mangroves has bioluminescent bacterium that creates light when the water is disturbed in any way. In addition to kayaking, canoeing is another great way to explore the river.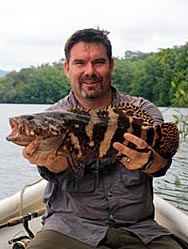 Fishing: Whether you're a diehard angler or just like to casually wet a line, the Sierpe River offers great fishing opportunities. Fishing can be enjoyed from a boat, kayak, and even the SDP piers and viewpoint platforms. Species commonly caught in the river include but are not limited to red snapper, snook, corvina, and goliath grouper. For more information about fishing in the Sierpe River please visit our sportfishing page.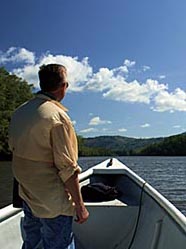 Wildlife Watching: Using the river as a corridor in which to view wildlife is one of the most effective ways to see a diverse number of species in diverse environments. When traveling from the headwaters of the Sierpe River to the Pacific Ocean the shoreline and aquatic environments change from one of arboreal primary forest and fresh water, to one of mangrove shorelines and highly saline water. The types of birds, mammals, reptiles, and aquatic animals, fish, and reptiles seen can vary dramatically. Furthermore, traveling by boat allows you great mobility, stealth, and a clear line of sight in which to view animal life.
Boating/Water Skiing/Swimming: Cruising the river is a great way to pass time and enjoy the company of friends and family. For some added excitement, pull a water-skier or wake-boarder behind the boat. Taking a swim is a great way to cool down as well, but is only recommended at slack tide when there is less current.