Investing in Unspoiled Costa Rica Real Estate is now more Affordable than Ever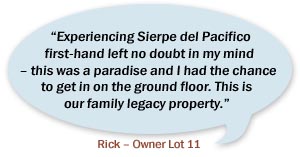 The Sierpe Del Pacifico founders have lowered the pricing on remaining home sites by 25-75%.
Investing in Sierpe del Pacifico is a lifetime opportunity that will provide immediate enjoyment and future growth, and that opportunity is more enticing than ever. Ownership opportunities start at $9,990 for a home site and $79,990 for a home site with a cabina.  
Sierpe del Pacifico owners have unique access to the unspoiled beauty of Costa Rica's Osa Peninsula. Situated on the banks of the Sierpe River, a fully navigable waterway to the ocean, Sierpe del Pacifico provides owners with a direct route to the Pacific – unspoiled. 365 days a year, in all tides, the Sierpe River transports Sierpe del Pacifico owners to unparalleled adventure and the natural beauty of the river, rainforest, and ocean. This unique access immerses owners into the Osa Peninsula lifestyle.
"Owning property at Sierpe Del Pacifico is investing in a one-of-a-kind property providing unparalleled adventure and enjoyment."
"Investing in Sierpe del Pacifico is investing in a one of a kind property with a desirability that will spread as the market recognizes its rarity."

Sierpe del Pacifico owners can net a 5–10% annual cash return by renting out their Sierpe del Pacifico vacation homes.
Existing Sierpe del Pacifico homes are renting out 30-40% of the year for $650-$1400 a week. Income generated from these rentals is enough to pay all costs associated with ownership and net a healthy cash return. Having a vacation home that is enjoyable to use and appreciates over time is great. Having a vacation home that is enjoyable to use, appreciates over time, and pays for itself along the way is even better!
Renting out your Sierpe del Pacifico home is easy. Create an online listing for the home and communicate with potential renters. Sierpe del Pacifico management will assist with logistics and hospitality.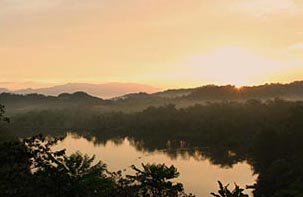 "Imagine owning a home in one of the most tranquil, beautiful places on earth. Eco-communities on the Osa Peninsula are tightly limited in number by the conservation guidelines of Costa Rica. Purchasing at Sierpe del Pacifico makes you part of a select group that recognizes the unparalleled opportunity and adventure of the Osa."
"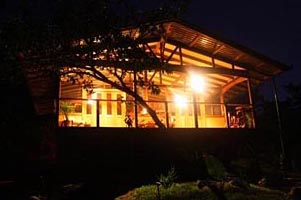 A vacation home on the Osa Peninsula is a legacy investment. Whether you build a "cabina rustica" tucked within the canopy, or an elevated lodge overlooking the river, you will enjoy intrinsic gratification. Your investment will pay continuous dividends, both traditional and emotional, for years to come."
"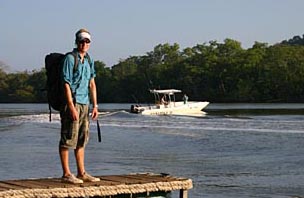 Purchasing a Costa Rica getaway at Sierpe del Pacifico is easy. Sierpe del Pacifico's team makes investing in Costa Rica seamless. The legal details of international ownership have been researched and documented. The process of finding a reputable on-site builder who combines aesthetics with environmental standards is done. Most important, your search for an unspoiled piece of paradise is complete."
"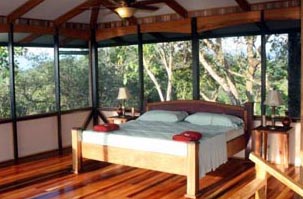 Owning a piece of paradise at Sierpe del Pacifico is even easier. Sierpe del Pacifico's ownership package includes assets and services that guarantee the security and enjoyment of your investment. An on-site caretaker maintains the grounds and monitors the security of homes at Sierpe del Pacifico. Housekeeping and property management services are available to make owners' stays more convenient and also facilitate the option of absentee rentals."
Once in a while an opportunity grabs your attention. It appeals to your dreams and it just feels right. If Sierpe del Pacifico has captured your imagination, learn more. A sound investment offering that provides immediate enjoyment and future growth is a legacy and a lifetime opportunity.
No other place in Costa Rica has exceptional real estate ownership opportunities like the property and lots at Sierpe del Pacifico, in Costa Rica's Southern zone. Experience the unspoiled beauty of this Osa Peninsula property by watching the HD promotional video.
For more information contact us at: info@sierpedelpacifico.com