Sierpe Del Pacifico Team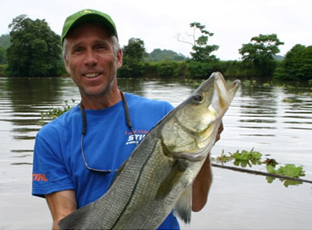 Fred Scheer, Founder/Owner
Fred is an entrepreneur and real-estate developer from Hayward, Wisconsin. Fred's vision for Sierpe del Pacifico came together in the fall of 2006 after visiting friend and real estate broker Jim Cameron for some fishing and property viewing. Fred caught a lot of fish that trip…but more importantly, he caught a great idea for an eco-adventure community for like-minded individuals. The pioneering project has since taken form, and Fred's vision is now complete. Fred visits Sierpe about 4 times a year, to raise sailfish by day and enjoy cervesas and sunsets by night.
Fred is married with two grown children and enjoys cross-country skiing, in-line skate racing, hunting, and fishing in his spare time. Interesting tidbit: Fred is a 4 time world-champion men's logroller and has placed in his age-group in North America's premier cross-country ski event, The American Birkebeiner.
Check out some of Fred's professional experiences:
A Cabin in Hayward – Residential/Vacation retreat development in Hayward, WI www.acabininhayward.com;
The Brook in Hayward – Residential www.thebrookinhayward.com; Arena Blanca – 12 unit condominium project in Playa del Carmen, Mexico developed jointly by Fred and Jay www.playaisfun.com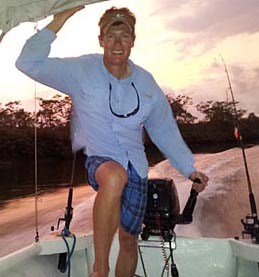 Cassidy Scheer, Development Coordinator/Sales
Cassidy, son of Fred, has been the on-site manager of Sierpe del Pacifico since November of 2007. A 2004 graduate of the University of Wisconsin – Madison, Cassidy has managed various Fred Scheer businesses since 1999. Sharing Fred's vision for the unique potential of Sierpe del Pacifico, Cassidy was excited to be presented with the opportunity to be part of the project from its initial phase. Fluent in the Spanish language, Cassidy is knowledgeable of the business culture of Costa Rica well practiced in methods of moving projects forward and through completion in this environment. In recent years he and Fred have embarked on several other successful real estate projects in Costa Rica.  In partnership with Fred, Cassidy has recently launched a new residential real estate project in his native state of Wisconsin.
Cassidy currently divides his time between Minneapolis, MN and Sierpe del Pacifico.  In his spare time he enjoys cycling, traveling, and is an avid fly-fisherman.  Like his father Fred, -Cassidy is also a world champion lumberjack sports athlete.  He holds numerous titles in speed-climbing, boom-running and the ironjack all-around events.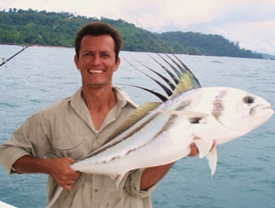 Guillermo Gonzalez-Serrano, Operations Manager
Guillermo has been a resident of the Osa Peninsula his entire life and brings a wealth of "local" knowledge about all things important to this project that only a lifelong Costa Rican could provide. Guillermo's daily routine can range from nurturing business relationships at the local municipal office to building water delivery solutions for the Sierpe del Pacifico property. Guillermo's family was the previous owner of the land that is now Sierpe del Pacifico, and he has been a part of the project since its inception. Guillermo speaks excellent English and will likely play an important role in managing the Sierpe del Pacificoriver concierge service.
Guillermo is married with two young sons and lives in central Sierpe. He is very active in the local community and church, and enjoys volunteer work, fishing and spending time with his family.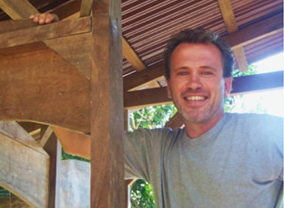 Marc LeRoux, Builder/Creative Consultant
Originally from Quebec, Canada, Marc LeRoux has been living and working in Sierpe as an independent contractor since 2005. Cassidy and Marc were introduced in December of 2007 and it quickly became apparent that Marc's understanding of how to mesh Costa Rican building techniques, capabilities, and materials with the desired aesthetics and function of the Sierpe del Pacifico community would contribute greatly to the development. Marc has built all 4 houses at Sierpe del Pacifico. Additionally, Marc's reputation for quality, affordability, and clear communication has landed him upwards of 80% of the North American construction contracts in the Sierpe area over the last 4 years.
Marc lives in in central Sierpe with his wife Shane and 4 dogs. In his spare time he enjoys wood-working, fly-tying, and reading.  Marc has also become one of the better fisherman in the Sierpe area and is a master in finding the elusive black snook in the upper reaches of the Sierpe River.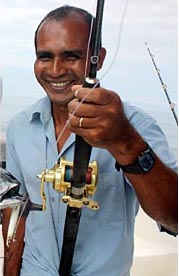 Donal Angulo Hernandez, Caretaker
Donal has been part of the Sierpe del Pacifico team since the owners' cabin was constructed in 2008. Responsible for all of the day-to-day maintenance at Sierpe del Pacifico, Donal always has a big Costa Rica smile on his face as he takes on the usual and sometimes unusual tasks with ease. Donal is the essence of Costa Rica Pura Vida, and a valuable member of the Sierpe del Pacifico team as the eyes and ears of the property. Donal is married with 3 sons and enjoys playing guitar and volunteering at the local church in his spare time. Donal is also a master river fisherman and knows all the best spots near Sierpe del Pacifico.
Gabriela "Gabby" and Eduardo Vargas, Attorneys
Residing in the nearby beach town of Uvita, Grabriela and Eduardo Vargas run their own law firm specializing in real estate transactions.  Their guidance and advice has proven indispensible during the process of developing, marketing, and selling Sierpe del Pacifico properties.  Eduardo and Gabby set the true standard for legal professionalism in the southern zone. In their spare time Eduardo and Gabby enjoy the beach and fishing the coastal areas near Uvita and Dominical. Gabby is also famous throughout the southern zone for her Costa Rica coffee.  It is so good that Cassidy has instructed her to cut him off after two cups whenever they meet!